Linux on a Chromebook just got easier with Termux
The only machine that I use is a Samsung Chromebook Plus and apart from running Docker, I can use it for my daily work review/research/develop activities. For me crouton is a life saver.
But is not the only option out there anymore ! My Chromebook Plus runs Android apps and now the Termux app for Android comes into play !
This app provides an Ubuntu based Linux emulator for Android phones/tablets and my Chromebook with larger screen and full keyboard make it really easy to use.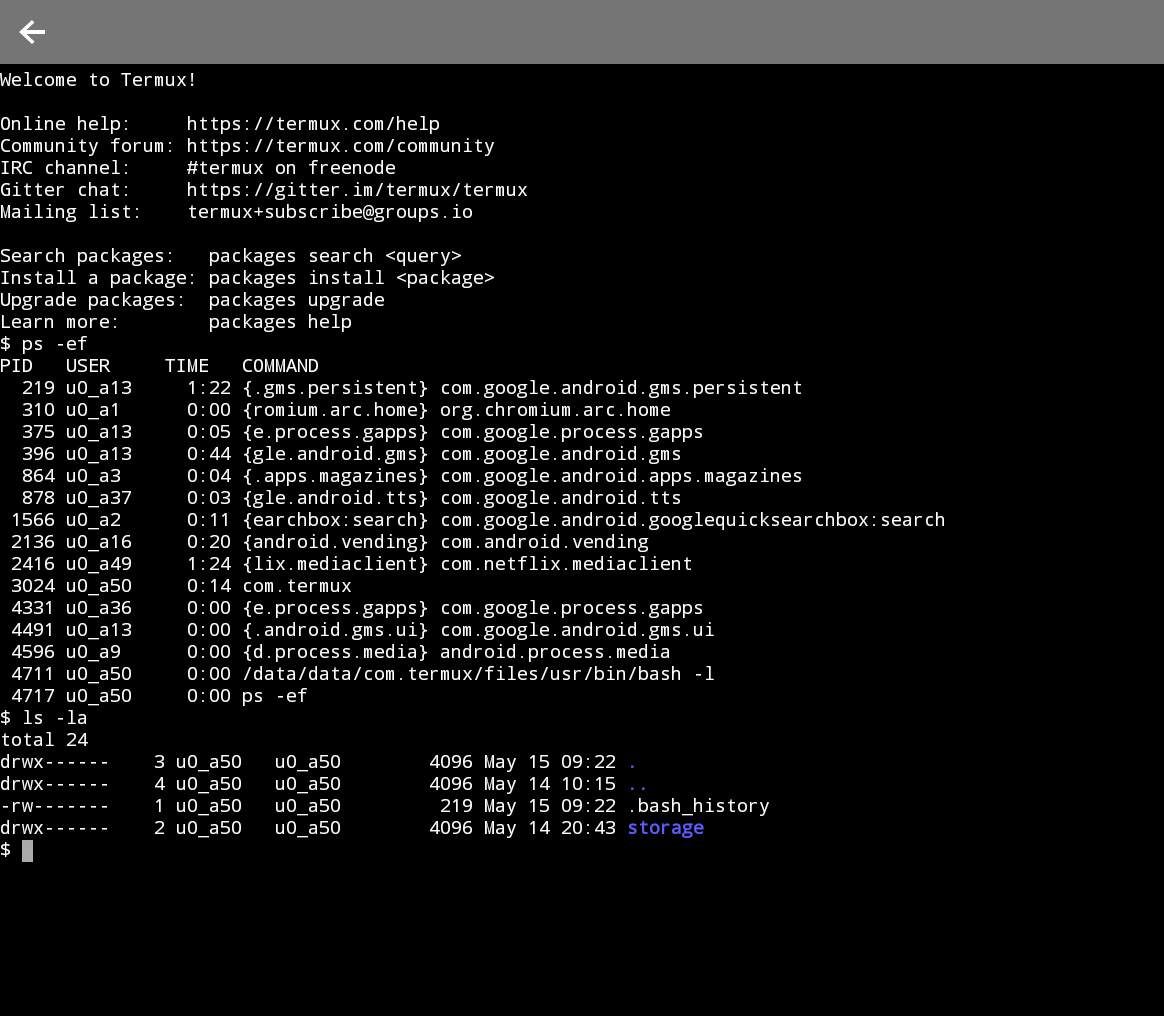 Termux comes with apt and provides the basic set of packages you need for development. For example this post shows how a Node.js environment with webserver was setup.
$apt list
Listing...
aapt/stable 7.0.0.14-1 arm
abduco/stable 0.6 arm
abook/stable 0.6.0pre2-1 arm
ack-grep/stable 2.14 all
angband/stable 4.0.5 arm
apksigner/stable 0.4 all
apr/stable 1.5.2-1 arm
apr-dev/stable 1.5.2-1 arm
apr-util/stable 1.5.4-1 arm
apr-util-dev/stable 1.5.4-1 arm
apt/stable,now 1.2.12-2 arm [installed]
apt-transport-https/stable 1.2.12-2 arm
aria2/stable 1.31.0 arm
asciinema/stable 1.4.0 all
attr/stable 2.4.47 arm
autoconf/stable 2.69 all
automake/stable 1.15-1 all
autossh/stable 1.4e arm
babl/stable 0.1.26 arm
babl-dev/stable 0.1.26 arm
bash/stable,now 4.4.12 arm [installed]
bash-completion/stable 2.5 all
bash-dev/stable 4.4.12 arm
bc/stable 1.06.95-3 arm
binutils/stable 2.28 arm
binutils-dev/stable 2.28 arm
bison/stable 3.0.4-1 arm
blogc/stable 0.12.0.123.acf1-1 arm
bmon/stable 4.0 arm
boost/stable 1.64.0-1 arm
boost-dev/stable 1.64.0-1 arm
brogue/stable 1.7.4 arm
bs1770gain/stable 0.4.12-1 arm
bsdtar/stable 3.3.1 arm
busybox/stable,now 1.26.2-3 arm [installed]
bvi/stable 1.4.0-1 arm
byobu/stable 5.114 all
bzip2/stable 1.0.6 arm
c-ares/stable 1.12.0 arm
c-ares-dev/stable 1.12.0 arm
ca-certificates/stable 20170117 all
ca-certificates-java/stable 20170117 all
calcurse/stable 4.2.2 arm
cboard/stable 0.7.3-1 arm
cgdb/stable 0.6.8 arm
clang/stable 4.0.0 arm
cmake/stable 3.8.1 arm
cmake-curses-gui/stable 3.8.1 arm
cmark/stable 0.27.1 arm
cmark-dev/stable 0.27.1 arm
cmatrix/stable 1.2a arm
cmus/stable 2.7.1 arm
colordiff/stable 1.0.16 all
command-not-found/stable,now 1.22 arm [installed]
coreutils/stable 8.27 arm
corkscrew/stable 2.0 arm
cowsay/stable 3.03 all
cppi/stable 1.18 arm
ctags/stable 0.0.20170224 arm
curl/stable 7.54.0 arm
curseofwar/stable 1.2.0 arm
cvs/stable 1.11.23 arm
daemonize/stable 1.7.7-1 arm
darkhttpd/stable 1.12 arm
dash/stable,now 0.5.9.1 arm [installed]
datamash/stable 1.1.1 arm
db/stable 6.2.32 arm
dcraw/stable 9.27.0-1 arm
debianutils/stable 4.8.1 arm
dialog/stable 1.3-20170509-0 arm
diffutils/stable 3.5 arm
direvent/stable 5.1 arm
dirmngr/stable 2.1.20 arm
dnsutils/stable 9.11.0-P1-0 arm
dnsutils-dev/stable 9.11.0-P1-0 arm
dos2unix/stable 7.3.4 arm
dpkg/stable,now 1.18.23 arm [installed]
dpkg-dev/stable 1.18.23 arm
dropbear/stable 2016.74 arm
dvtm/stable 0.15 arm
dx/stable 25.0.1 all
ecj/stable 4.6.2 all
ed/stable 1.14.2 arm
elfutils/stable 0.168 arm
elfutils-dev/stable 0.168 arm
elinks/stable 0.12pre6-4 arm
emacs/stable 25.2-1 arm
erlang/stable 19.3 arm
espeak/stable 1.49.1 arm
espeak-dev/stable 1.49.1 arm
expect/stable 5.45 arm
expect-dev/stable 5.45 arm
ffmpeg/stable 3.3 arm
ffmpeg-dev/stable 3.3 arm
fftw/stable 3.3.6-2 arm
fftw-dev/stable 3.3.6-2 arm
figlet/stable 2.2.5 arm
file/stable 5.30 arm
file-dev/stable 5.30 arm
finch/stable 2.11.0-1 arm
finch-dev/stable 2.11.0-1 arm
findutils/stable 4.6.0-2 arm
fish/stable 2.5.0-1 arm
flac/stable 1.3.2 arm
flex/stable 2.6.4 arm
fontconfig/stable 2.12.0 arm
fontconfig-dev/stable 2.12.0 arm
fontconfig-utils/stable 2.12.0 arm
fortune/stable 1.2 arm
fossil/stable 2.2 arm
freetype/stable 2.7.1 arm
freetype-dev/stable 2.7.1 arm
frobtads/stable 1.2.3-1 arm
frotz/stable 2.44-1 arm
fsmon/stable 1.4 arm
fwknop/stable 2.6.9-2 arm
fwknop-dev/stable 2.6.9-2 arm
fzf/stable 0.16.7 arm
gawk/stable 4.1.4-2 arm
gawk-dev/stable 4.1.4-2 arm
gcal/stable 4.1 arm
gdb/stable 7.12.1 arm
gdb-dev/stable 7.12.1 arm
gdbm/stable 1.13 arm
gdbm-dev/stable 1.13 arm
gdk-pixbuf/stable 2.36.4 arm
gdk-pixbuf-dev/stable 2.36.4 arm
gegl/stable 0.3.14 arm
gegl-dev/stable 0.3.14 arm
getconf/stable 0.4 arm
getmail/stable 4.54.0 all
gettext/stable 0.19.8 arm
gettext-dev/stable 0.19.8 arm
gifsicle/stable 1.88 arm
git/stable 2.13.0 arm
glib/stable 2.52.1 arm
glib-bin/stable 2.52.1 arm
glib-dev/stable 2.52.1 arm
global/stable 6.5.6 arm
glulxe/stable 0.5.4 arm
gnuchess/stable 6.2.4 arm
gnugo/stable 3.8-1 arm
gnupg/stable 1.4.21-1 arm
gnupg-curl/stable 1.4.21-1 arm
gnupg2/stable 2.1.20 arm
gnuplot/stable 5.0.6 arm
gnushogi/stable 1.4.2 arm
gnutls/stable 3.5.12 arm
golang/stable 2:1.8.1 arm
googletest/stable 1.8.0 arm
gpgme/stable 1.9.0 arm
gpgme-dev/stable 1.9.0 arm
gpgv/stable,now 1.4.21-1 arm [installed]
graphicsmagick/stable 1.3.25-1 arm
graphicsmagick-dev/stable 1.3.25-1 arm
graphviz/stable 2.40.1 arm
graphviz-dev/stable 2.40.1 arm
greed/stable 4.2 arm
grep/stable 3.0 arm
gsl/stable 2.3 arm
gsl-dev/stable 2.3 arm
gtypist/stable 2.9.5 arm
gzip/stable 1.8 arm
harfbuzz/stable 1.4.6 arm
harfbuzz-dev/stable 1.4.6 arm
harfbuzz-icu/stable 1.4.6 arm
harfbuzz-utils/stable 1.4.6 arm
hexcurse/stable 1.60.0-1 arm
ht/stable 2.1.0 arm
htop/stable 2.0.2 arm
httping/stable 2.5 arm
hub/stable 2.2.8 arm
hunspell/stable 1.6.1 arm
hunspell-dev/stable 1.6.1 arm
hunspell-en-us/stable 2017.03.03-1 all
hunspell-ru/stable 2017.03.03 all
hydra/stable 8.4-1 arm
iconv/stable 1.15 arm
icu-devtools/stable 59.1 arm
imagemagick/stable 7.0.5-1-0 arm
imagemagick-dev/stable 7.0.5-1-0 arm
inetutils/stable 1.9.4-5 arm
inotify-tools/stable 3.14 arm
inotify-tools-dev/stable 3.14 arm
iperf3/stable 3.1.3 arm
iperf3-dev/stable 3.1.3 arm
ired/stable 0.6 arm
irssi/stable 1.0.2 arm
irssi-dev/stable 1.0.2 arm
jhead/stable 3.00 arm
joe/stable 4.4 arm
jq/stable 1.5 arm
jq-dev/stable 1.5 arm
json-c/stable 0.12.1 arm
json-c-dev/stable 0.12.1 arm
json-glib/stable 1.2.8 arm
json-glib-dev/stable 1.2.8 arm
jsoncpp/stable 1.8.0 arm
jsoncpp-dev/stable 1.8.0 arm
jupp/stable 3.1jupp30 arm
kona/stable 3.39-69-0 arm
krb5/stable 1.15.1-2 arm
krb5-dev/stable 1.15.1-2 arm
ldns/stable 1.7.0-1 arm
ldns-dev/stable 1.7.0-1 arm
ledger/stable 3.1.1 arm
ledger-dev/stable 3.1.1 arm
leptonica/stable 1.74.1 arm
leptonica-dev/stable 1.74.1 arm
less/stable 487 arm
lftp/stable 4.7.7 arm
libandroid-glob/stable 0.3 arm
libandroid-glob-dev/stable 0.3 arm
libandroid-shmem/stable 0.1.2 arm
libandroid-shmem-dev/stable 0.1.2 arm
libandroid-support/stable,now 14 arm [installed]
libandroid-support-dev/stable 14 arm
libarchive/stable 3.3.1 arm
libarchive-dev/stable 3.3.1 arm
libassuan/stable 2.4.3 arm
libassuan-dev/stable 2.4.3 arm
libbz2/stable 1.0.6 arm
libbz2-dev/stable 1.0.6 arm
libcaca/stable 0.99.beta19 arm
libcaca-dev/stable 0.99.beta19 arm
libcairo/stable 1.14.8 arm
libcairo-dev/stable 1.14.8 arm
libcairo-gobject/stable 1.14.8 arm
libclang/stable 4.0.0 arm
libcln/stable 1.3.4-1 arm
libcln-dev/stable 1.3.4-1 arm
libconfig/stable 1.5 arm
libconfig-dev/stable 1.5 arm
libconfuse/stable 3.0 arm
libconfuse-dev/stable 3.0 arm
libcroco/stable 0.6.12 arm
libcroco-dev/stable 0.6.12 arm
libcrypt/stable 0.2 arm
libcrypt-dev/stable 0.2 arm
libcue/stable 2.1.0 arm
libcue-dev/stable 2.1.0 arm
libcurl/stable 7.54.0 arm
libcurl-dev/stable 7.54.0 arm
libdb/stable 6.2.32 arm
libdb-dev/stable 6.2.32 arm
libedit/stable 20170329-3.1-0 arm
libedit-dev/stable 20170329-3.1-0 arm
libev/stable 4.24 arm
libev-dev/stable 4.24 arm
libevent/stable 2.1.8 arm
libevent-dev/stable 2.1.8 arm
libexif/stable 0.6.21 arm
libexif-dev/stable 0.6.21 arm
libexpat/stable 2.2.0 arm
libexpat-dev/stable 2.2.0 arm
libffi/stable 3.2.1-2 arm
libffi-dev/stable 3.2.1-2 arm
libflac/stable 1.3.2 arm
libflac-dev/stable 1.3.2 arm
libgc/stable 7.6.0 arm
libgc-dev/stable 7.6.0 arm
libgcc/stable 4.9-1 arm
libgcrypt/stable 1.7.6 arm
libgcrypt-dev/stable 1.7.6 arm
libgd/stable 2.2.4 arm
libgd-dev/stable 2.2.4 arm
libgit2/stable 0.25.1 arm
libgit2-dev/stable 0.25.1 arm
libgmime/stable 2.6.23 arm
libgmime-dev/stable 2.6.23 arm
libgmp/stable 6.1.2 arm
libgmp-dev/stable 6.1.2 arm
libgnustl/stable,now 14-1 arm [installed]
libgnutls/stable 3.5.12 arm
libgnutls-dev/stable 3.5.12 arm
libgpg-error/stable 1.27 arm
libgpg-error-dev/stable 1.27 arm
libgraphite/stable 1.3.9 arm
libgraphite-dev/stable 1.3.9 arm
libicu/stable 59.1 arm
libicu-dev/stable 59.1 arm
libid3tag/stable 0.15.1b-1 arm
libid3tag-dev/stable 0.15.1b-1 arm
libidn/stable 1.33 arm
libidn-dev/stable 1.33 arm
libisl/stable 0.18 arm
libisl-dev/stable 0.18 arm
libjasper/stable 2.0.12 arm
libjasper-dev/stable 2.0.12 arm
libjasper-utils/stable 2.0.12 arm
libjpeg-turbo/stable 1.5.1 arm
libjpeg-turbo-dev/stable 1.5.1 arm
libjpeg-turbo-progs/stable 1.5.1 arm
libksba/stable 1.3.5 arm
libksba-dev/stable 1.3.5 arm
libllvm/stable 4.0.0 arm
libllvm-dev/stable 4.0.0 arm
libltdl/stable 2.4.6-4 arm
liblua/stable 5.3.4-1 arm
liblua-dev/stable 5.3.4-1 arm
liblzma/stable,now 5.2.3 arm [installed]
liblzma-dev/stable 5.2.3 arm
liblzo/stable 2.10 arm
liblzo-dev/stable 2.10 arm
libmad/stable 0.15.1b-1 arm
libmad-dev/stable 0.15.1b-1 arm
libmesode/stable 0.9.1 arm
libmesode-dev/stable 0.9.1 arm
libmosquitto/stable 1.4.11 arm
libmosquitto-dev/stable 1.4.11 arm
libmp3lame/stable 3.99 arm
libmp3lame-dev/stable 3.99 arm
libmp3splt/stable 0.9.2-1 arm
libmp3splt-dev/stable 0.9.2-1 arm
libmpc/stable 1.0.3-1 arm
libmpc-dev/stable 1.0.3-1 arm
libmpdclient/stable 2.11 arm
libmpdclient-dev/stable 2.11 arm
libmpfr/stable 3.1.5 arm
libmpfr-dev/stable 3.1.5 arm
libmsgpack/stable 2.1.1 arm
libmsgpack-dev/stable 2.1.1 arm
libnettle/stable 3.3 arm
libnettle-dev/stable 3.3 arm
libnghttp2/stable 1.22.0 arm
libnghttp2-dev/stable 1.22.0 arm
libnl/stable 3.2.29 arm
libnl-dev/stable 3.2.29 arm
libnpth/stable 1.3 arm
libnpth-dev/stable 1.3 arm
libogg/stable 1.3.2 arm
libogg-dev/stable 1.3.2 arm
liboggz/stable 1.1.1-1 arm
liboggz-dev/stable 1.1.1-1 arm
libopus/stable 1.1.4 arm
libopus-dev/stable 1.1.4 arm
libotr/stable 4.1.1 arm
libotr-dev/stable 4.1.1 arm
libpcap/stable 1.8.1 arm
libpcap-dev/stable 1.8.1 arm
libpipeline/stable 1.4.1 arm
libpipeline-dev/stable 1.4.1 arm
libpixman/stable 0.34.0 arm
libpixman-dev/stable 0.34.0 arm
libpng/stable 1.6.29 arm
libpng-dev/stable 1.6.29 arm
libpopt/stable 1.16 arm
libpopt-dev/stable 1.16 arm
libprotobuf/stable 3.2.0-1 arm
libprotobuf-dev/stable 3.2.0-1 arm
libpulseaudio/stable 10.0-1 arm
libpulseaudio-dev/stable 10.0-1 arm
librhash/stable 1.3.4 arm
librhash-dev/stable 1.3.4 arm
librsvg/stable 2.40.16 arm
librsvg-dev/stable 2.40.16 arm
librsync/stable 2.0.0 arm
librsync-dev/stable 2.0.0 arm
libsasl/stable 2.1.26 arm
libsasl-dev/stable 2.1.26 arm
libsndfile/stable 1.0.27 arm
libsndfile-dev/stable 1.0.27 arm
libsodium/stable 1.0.12 arm
libsodium-dev/stable 1.0.12 arm
libsqlite/stable 3.18.0 arm
libsqlite-dev/stable 3.18.0 arm
libssh/stable 0.7.5 arm
libssh-dev/stable 0.7.5 arm
libtalloc/stable 2.1.9 arm
libtalloc-dev/stable 2.1.9 arm
libtermkey/stable 0.20 arm
libtermkey-dev/stable 0.20 arm
libtiff/stable 4.0.7 arm
libtiff-dev/stable 4.0.7 arm
libtiff-utils/stable 4.0.7 arm
libtool/stable 2.4.6-4 arm
libtsm/stable 3-1 arm
libtsm-dev/stable 3-1 arm
libunibilium/stable 1.2.0 arm
libunibilium-dev/stable 1.2.0 arm
libunistring/stable 0.9.7 arm
libunistring-dev/stable 0.9.7 arm
libunwind/stable 1.2.20170304 arm
libunwind-dev/stable 1.2.20170304 arm
libutil/stable 0.2 arm
libutil-dev/stable 0.2 arm
libuuid/stable 1.0.3 arm
libuuid-dev/stable 1.0.3 arm
libuv/stable 1.11.0 arm
libuv-dev/stable 1.11.0 arm
libvorbis/stable 1.3.5 arm
libvorbis-dev/stable 1.3.5 arm
libvpx/stable 1.6.1 arm
libvpx-dev/stable 1.6.1 arm
libvterm/stable 16.12.18 arm
libvterm-dev/stable 16.12.18 arm
libx264/stable 20170122 arm
libx264-dev/stable 20170122 arm
libx265/stable 2.4 arm
libx265-dev/stable 2.4 arm
libxapian/stable 1.4.3 arm
libxapian-dev/stable 1.4.3 arm
libxml2/stable 2.9.4-1 arm
libxml2-dev/stable 2.9.4-1 arm
libxml2-utils/stable 2.9.4-1 arm
libxslt/stable 1.1.29-1 arm
libxslt-dev/stable 1.1.29-1 arm
libzmq/stable 4.2.2 arm
libzmq-dev/stable 4.2.2 arm
libzopfli/stable 1.0.1-1 arm
libzopfli-dev/stable 1.0.1-1 arm
lighttpd/stable 1.4.45 arm
linux-man-pages/stable 4.10 all
littlecms/stable 2.8 arm
littlecms-dev/stable 2.8 arm
littlecms-utils/stable 2.8 arm
llvm/stable 4.0.0 arm
lrzsz/stable 0.12.20 arm
ltrace/stable 0.7.3.20160411 arm
lua/stable 5.3.4-1 arm
luarocks/stable 2.4.2 all
lynx/stable 2.8.9dev.13 arm
lzip/stable 1.19 arm
lzop/stable 1.03 arm
m4/stable 1.4.18 arm
macchanger/stable 1.7.0 arm
make/stable 4.2.1 arm
make-dev/stable 4.2.1 arm
man/stable 1.14.1-1 arm
man-dev/stable 1.13.4-3 arm
mathomatic/stable 16.0.5-2 arm
mc/stable 4.8.19 arm
memcached/stable 1.4.36 arm
memcached-dev/stable 1.4.36 arm
micro/stable 1.1.4 arm
minicom/stable 2.7 arm
mlocate/stable 0.26-1 arm
moon-buggy/stable 1.0.51 arm
mosh/stable 1.3.0 arm
mosquitto/stable 1.4.11 arm
mp3splt/stable 2.6.2-1 arm
mpc/stable 0.28-1 arm
mpv/stable 0.25.0 arm
multitail/stable 6.4.2 arm
mutt/stable 1.8.0 arm
nano/stable 2.8.2 arm
ncdc/stable 1.20 arm
ncdu/stable 1.12 arm
ncurses/stable,now 6.0.20170225 arm [installed]
ncurses-dev/stable 6.0.20170225 arm
ncurses-ui-libs/stable 6.0.20170225 arm
ncurses-utils/stable 6.0.20170225 arm
ndk-stl/stable 14 arm
ndk-sysroot/stable 14-1 arm
ne/stable 3.1.0 arm
neofetch/stable 3.1.0 all
neovim/stable 0.2.1~20170504 arm
net-tools/stable 1.60.2017.02.21 arm
netcat/stable 7.40-2 arm
netpbm/stable 2935 arm
netpbm-dev/stable 2935 arm
nettle/stable 3.3 arm
newsbeuter/stable 2.9-1 arm
nginx/stable 1.12.0 arm
nmap/stable 7.40-2 arm
nodejs/stable 6.10.3 arm
nodejs-dev/stable 6.10.3 arm
notmuch/stable 0.24.1 arm
notmuch-dev/stable 0.24.1 arm
ocrad/stable 0.25 arm
ocrad-dev/stable 0.25 arm
openal-soft/stable 1.17.2 arm
openal-soft-dev/stable 1.17.2 arm
openjpeg/stable 2.1.2 arm
openjpeg-dev/stable 2.1.2 arm
openjpeg-tools/stable 2.1.2 arm
openssh/stable 7.5p1-1 arm
openssl/stable 1.0.2k arm
openssl-dev/stable 1.0.2k arm
openssl-tool/stable 1.0.2k arm
optipng/stable 0.7.6 arm
opus-tools/stable 0.1.9 arm
opusfile/stable 0.8 arm
opusfile-dev/stable 0.8 arm
p7zip/stable 16.02 arm
pango/stable 1.40.5 arm
pango-dev/stable 1.40.5 arm
par2/stable 0.6.14 arm
parallel/stable 20170222 all
pass/stable 1.7.1-1 all
pastebinit/stable 1.5 all
patch/stable 2.7.5 arm
patchelf/stable 0.9 arm
pathpicker/stable 0.7.2 all
pcre/stable 8.40 arm
pcre-dev/stable 8.40 arm
perl/stable 5.24.1-2 arm
pforth/stable 20170116 arm
php/stable 7.1.5 arm
php-dev/stable 7.1.5 arm
php-fpm/stable 7.1.5 arm
php-pgsql/stable 7.1.5 arm
pick/stable 1.6.1 arm
picolisp/stable 17.4.7 arm
pinentry/stable 1.0.0 arm
pkg-config/stable 0.29.2 arm
play-audio/stable 0.4 arm
poppler/stable 0.52.0 arm
poppler-dev/stable 0.52.0 arm
postgresql/stable 9.6.3 arm
postgresql-contrib/stable 9.6.3 arm
postgresql-dev/stable 9.6.3 arm
privoxy/stable 3.0.26 arm
procps/stable 3.3.12 arm
procps-dev/stable 3.3.12 arm
profanity/stable 0.5.1-1 arm
profanity-dev/stable 0.5.1-1 arm
proot/stable 5.1.104 arm
protobuf/stable 3.2.0-1 arm
psmisc/stable 22.21 arm
pulseaudio/stable 10.0-1 arm
pure-ftpd/stable 1.0.46 arm
pv/stable 1.6.0 arm
pwgen/stable 2.07-1 arm
python/stable 3.6.1 arm
python-dev/stable 3.6.1 arm
python2/stable 2.7.13 arm
python2-dev/stable 2.7.13 arm
qalc/stable 0.9.11 arm
qalc-dev/stable 0.9.11 arm
radare2/stable 1.4.0 arm
radare2-dev/stable 1.4.0 arm
ragel/stable 6.9 arm
ranger/stable 1.8.1 all
rdiff/stable 2.0.0 arm
readline/stable,now 7.0.3 arm [installed]
readline-dev/stable 7.0.3 arm
redir/stable 2.2.1 arm
redis/stable 3.2.8 arm
remind/stable 3.1.15 arm
resolv-conf/stable 1.0 arm
rlwrap/stable 0.43 arm
rsync/stable 3.1.2 arm
rtmpdump/stable 2.4 arm
rtmpdump-dev/stable 2.4 arm
ruby/stable 2.4.1-1 arm
ruby-dev/stable 2.4.1-1 arm
ruby-ri/stable 2.4.1-1 all
screen/stable 4.5.1 arm
screenfetch/stable 3.7.0 all
scrypt/stable 1.2.1 arm
sed/stable 4.4 arm
sensible-utils/stable 0.0.9 arm
serf/stable 1.3.9 arm
serf-dev/stable 1.3.9 arm
sharutils/stable 4.15.2 arm
silversearcher-ag/stable 1.0.3 arm
sl/stable 5.02 arm
socat/stable 1.7.3.2 arm
sox/stable 14.4.2-2 arm
sox-dev/stable 14.4.2-2 arm
speex/stable 1.2rc2 arm
speex-dev/stable 1.2rc2 arm
sqlite/stable 3.18.0 arm
sshpass/stable 1.06 arm
sslscan/stable 1.11.7 arm
stag/stable 1.0.0 arm
stfl/stable 0.24 arm
stfl-dev/stable 0.24 arm
stow/stable 2.2.2 all
strace/stable 4.16 arm
stunnel/stable 5.41 arm
subversion/stable 1.9.5 arm
subversion-dev/stable 1.9.5 arm
syncthing/stable 0.14.27-rc.2-0 arm
tack/stable 1.07 arm
tar/stable 1.29-1 arm
tasksh/stable 1.2.0 arm
taskwarrior/stable 2.5.1-2 arm
tcl/stable 8.6.6-4 arm
tcl-dev/stable 8.6.6-4 arm
tcpdump/stable 4.8.1 arm
termux-api/stable 0.24 arm
termux-apt-repo/stable 0.2 all
termux-create-package/stable 0.4 all
termux-elf-cleaner/stable 1.1 arm
termux-tools/stable,now 0.42 all [installed]
teseq/stable 1.1.1 arm
tesseract/stable 3.05.00 arm
tesseract-dev/stable 3.05.00 arm
texinfo/stable 6.3 arm
texlive/stable 20160523b-2 arm
tig/stable 2.2.2 arm
timewarrior/stable 1.0.0 arm
tintin++/stable 2.01.2 arm
tinyscheme/stable 1.41-1 arm
tmate/stable 2.2.1-1 arm
tmux/stable 2.4 arm
toilet/stable 0.3 arm
tor/stable 0.3.0.6 arm
torsocks/stable 2.2.0.2017.1.17 arm
tracepath/stable 20161105 arm
transmission/stable 2.92-2 arm
tree/stable 1.7.0-2 arm
tsu/stable 0.1 all
tty-clock/stable 2.3 arm
ttyrec/stable 1.0.8-2 arm
units/stable 2.13-2 arm
unrar/stable 5.4.5 arm
unzip/stable 6.0-1 arm
utf8cpp/stable 2.3.5 arm
utfdecode/stable 0.3.4 arm
util-linux/stable 2.29.2 arm
util-linux-dev/stable 2.29.2 arm
valac/stable 0.36.1 arm
valac-dev/stable 0.36.1 arm
valgrind/stable 3.12.0 arm
valgrind-dev/stable 3.12.0 arm
vim/stable 8.0.0596 arm
vim-python/stable 8.0.0596 arm
vim-runtime/stable 8.0.0596 all
vorbis-tools/stable 1.4.0-1 arm
vttest/stable 20140305 arm
vtutils/stable 0.5 arm
w3m/stable 0.5.3.20170102 arm
wcalc/stable 2.5-3 arm
weechat/stable 1.7.1 arm
weechat-dev/stable 1.7.1 arm
weechat-lua-plugin/stable 1.7.1 arm
weechat-perl-plugin/stable 1.7.1 arm
weechat-python-plugin/stable 1.7.1 arm
weechat-ruby-plugin/stable 1.7.1 arm
wget/stable 1.19.1 arm
wol/stable 0.7.1-2 arm
x264/stable 20170122 arm
x265/stable 2.4 arm
xapian-tools/stable 1.4.3 arm
xmlstarlet/stable 1.6.1-2 arm
xsltproc/stable 1.1.29-1 arm
xvidcore/stable 1.3.4-1 arm
xvidcore-dev/stable 1.3.4-1 arm
xz-utils/stable 5.2.3 arm
yasm/stable 1.3.0 arm
yasm-dev/stable 1.3.0 arm
zbar/stable 0.10-4 arm
zbar-dev/stable 0.10-4 arm
zile/stable 2.4.13 arm
zip/stable 3.0 arm
zsh/stable 5.3.1-2 arm

Related articles: